Opis
Smok TFV9 Tank - to najnowszy atomizer od firmy Smok na gotowe grzałki. Cechuje się dużą pojemnością zbiornika, aż 6,5ml, oraz nowym systemem grzewczym v9 mesh, który jest kompatybilny ze znanymi grzałkami Smok TFV8 Baby. Atomizer wyposażono w dolny przepływ powietrza oraz górny system uzupełniania liquidu.
---
!UWAGA!
Produkty z kategorii: Mody, Pody, Atomizery, Liquidy TPD objęte są regulacjami prawnymi.
Zamówienia wyżej wymienionych produktów możliwe są tylko wtedy, gdy podmiot zamawiający prowadzi własną firmę lub działalność gospodarczą. Działalność nie musi być związana z branżą elektronicznych papierosów. 
Każde zamówienie jest realizowane po zweryfikowaniu danych.
Brak numeru NIP przy zamówieniu jest równoznaczny z anulowaniem zamówienia.

Zakupy detaliczne wszystkich produktów dostępnych na stronie można dokonać w punktach stacjonarnych So Fly - The Vape Shop - zobacz adresy punktów stacjonarnych.
Opinie o produkcie (1)
Inni kupili również
Smok TFV9 Coil / TFV8 Big Baby Coil
Mango - Longfill Fucked Lab 10/60 ml
Lost Vape Ursa Nano Air Pod Kit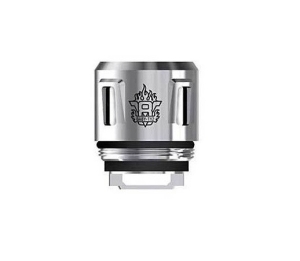 Smok TFV8 Baby - Coil