Vaporesso XROS Nano Pod Kit
Opis
Kompaktowy pod kit w nowoczesnej formie, przypominającej geometryczną bryłę - Vaporesso Xros Nano to nowa, odświeżona wersja modeli z rodziny XROS. Niewielkie urządzenie wyposażone zostało w wiele udogodnień. Xros Nano pod system posiada napełniany od góry kartridż XROS 0.8/1,2ohm z technologią SSS Leak-Resistant, chroniącą przed wyciekiem liquidu. Dodatkowym atutem prezentowanego w So Fly The Vape Shop sprzętu od Vaporesso jest specjalnie zaprojektowany, regulowany przepływ powietrza.  Tryb pulsacyjny, zasilany przez chip AXON, gwarantuje oddanie wyrazistego i pełnego smaku podczas zaciągania się. Vaporesso Xros Nano Pod Kit z wbudowaną baterią 1000mAh jest kompatybilny z wszystkimi kartridżami z tej samej serii. Z podem Xros Nano można cieszyć się z najwyższej jakości wapowania metodą MTL przez cały dzień. 
Specyfikacja:
Wymiary: 48,8 mm x 14,9 mm x 63,1 mm
Pojemność: 2 ml
Ładowanie: kabel USB typu C, 1A
Zasilanie: wbudowana bateria 1000mAh
Obsługiwana oporność: 0.8Ω/1.2Ω
Tryb pulsacyjny zasilany przez układ AXON
Górne napełnianie 
Technologia SSS Leak-Resistant 
W zestawie Vaporesso Xros Nano Pod Kit:
1 x VAPORESSO XROS Nano
1 x XROS Series 0.8Ω MESH POD
1 x XROS serii 1.2 Ω POD
1 x kabel USB typu C
1 x smycz
karta gwarancyjna
instrukcja obsługi
---
!UWAGA!
Produkty z kategorii: Mody, Pody, Atomizery, Liquidy TPD objęte są regulacjami prawnymi.
Zamówienia wyżej wymienionych produktów możliwe są tylko wtedy, gdy podmiot zamawiający prowadzi własną firmę lub działalność gospodarczą. Działalność nie musi być związana z branżą elektronicznych papierosów. 
Każde zamówienie jest realizowane po zweryfikowaniu danych.
Brak numeru NIP przy zamówieniu jest równoznaczny z anulowaniem zamówienia.

Zakupy detaliczne wszystkich produktów dostępnych na stronie można dokonać w punktach stacjonarnych So Fly - The Vape Shop - zobacz adresy punktów stacjonarnych.
Opinie o produkcie (0)
Inni kupili również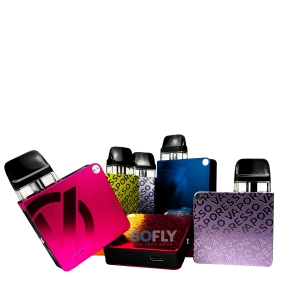 Vaporesso Xros 3 Nano Pod Kit
Vaporesso XROS Pod
Lost Vape Ursa Baby Pro Pod Kit
Vaporesso Xros Mini - Pod Kit