Vaporesso Target 100 Kit
Cena:
208,00 zł
299,00 zł
208.00
Najniższa cena z 30 dni przed tą promocją:
175,00 zł
Jeżeli produkt jest sprzedawany krócej niż 30 dni, wyświetlana jest najniższa cena od momentu, kiedy produkt pojawił się w sprzedaży.
towar niedostępny
* - Pole wymagane
Opis
VAPORESSO TARGET 100 KIT to najnowszy iTank z przepływem powietrza Turbo Boost i szczelną konstrukcją górnego napełniania jest zoptymalizowany pod kątem vapowania DL i zapewnia płynniejszy przepływ powietrza od dołu do góry. Dodatkowo, dla komfortu użytkowania, zastosowano budowę zmniejszającą hałas w trakcie brania buszka. Przepływ powietrza został poprawiony, dzięki zastosowaniu trzech portów wlotowych umieszczonych u podstawy zbiornika, dla pełnego - 360 stopni - przepływu i bardziej precyzyjnej regulacji.
Specyfikacja: 
Wymiary: 140 x 35 x 29 mm
Moc 5 - 100 W
Bateria 18650/21700/20700 ( brak w zestawie)
Ładowanie USB-C
Wyświetlacz 0,96 "
Górny system zalewania zbiornika
Regulacja przepływu powietrza
Zestaw zawiera:
1x VAPORESSO TARGET 100 Mod
1x VAPORESSO iTANK (5ml)

1x Grzałka GTi 0.2ohm MESH (60-75W)
1x Grzałka GTi 0.4ohm MESH (50-60W)
1x Dodatkowe szkło wymienne
3x O-ring
1x Kabel USB-C
1x Instrukcja obsługi
---
!UWAGA!
Produkty z kategorii: Mody, Pody, Atomizery, Liquidy TPD objęte są regulacjami prawnymi.
Zamówienia wyżej wymienionych produktów możliwe są tylko wtedy, gdy podmiot zamawiający prowadzi własną firmę lub działalność gospodarczą. Działalność nie musi być związana z branżą elektronicznych papierosów. 
Każde zamówienie jest realizowane po zweryfikowaniu danych.
Brak numeru NIP przy zamówieniu jest równoznaczny z anulowaniem zamówienia.
Zakupy detaliczne wszystkich produktów dostępnych na stronie można dokonać w punktach stacjonarnych So Fly - The Vape Shop - zobacz adresy punktów stacjonarnych.
Opinie o produkcie (1)
Inni kupili również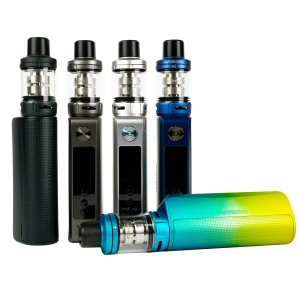 Vaporesso Gen 80S Kit
165,00 zł
Cena regularna:
239,00 zł
Najniższa cena: 139,00 zł
Akumulator Sony VTC6
31,00 zł
Cena regularna:
34,00 zł
Najniższa cena: 34,00 zł
Geekvape S100 (Solo 2) Kit
249,00 zł
Cena regularna:
299,00 zł
Najniższa cena: 299,00 zł