Opis
GEN Fit to nowa propozycja kompaktowego zestawu od Vaporesso. Mod kit to urządzenie MTL, które sprawdzi się szczególnie w rękach początkujących vaperów. Ten prosty w obsłudze zestaw został wyposażony w pojemną baterię 1200 mAh, która pozwala na działanie na mocy 5-20W. Dodatkowym udogodnieniem jest zastosowaniu trybu PULSE, który pozwala na czysty i spójny smak z wyraźną nikotyną. Prezentowany model można aktywować poprzez zaciągnięcie się lub z wykorzystaniem przycisku. Wspomniany guzik znajdujący się u góry moda pozwala również na wybór jednego z trzech trybów mocy - low, medium i high. Producenci zadbali również, by w tym wygodnym w użytkowaniu sprzęcie z łatwością można było kontrolować poziom baterii - o jej stanie informuje trójkolorowy wskaźnik na górze urządzenia. Vaporesso Gen Fit Mod Kit z atomizerem iTank (3 ml) i grzałką z serii MTX gwarantuje wysoką satysfakcję i idealne dopasowanie do własnych preferencji. 
Specyfikacja:
Wymiary moda: 19,1 mm x 27,6 mm x 74,3 mm
Wymiary atomizera: 18,3 mm x 47,8 mm
Pojemność: 3 ml
Oporność grzałki: MTX 1.2Ω Coil (8-12W)
Zasilanie: wbudowana bateria 1200 mAh
Moc wyjściowa: 5-20W
Napięcie: 3.0V(low) - 3.3V (medium) - 3.5V (high)
Ładowanie: USB typu C DC 5V/1A
W zestawie Vaporesso Gen Fit Mod Kit:
1 x GEN Fit Mod Box
1 x iTank M Tank (3 ml)
1 x MTX 1..2Ω Coil (8-12W)
kabel USB typu C
instrukcja obsługi
karta gwarancyjna
---
!UWAGA!
Produkty z kategorii: Mody, Pody, Atomizery, Liquidy TPD objęte są regulacjami prawnymi.
Zamówienia wyżej wymienionych produktów możliwe są tylko wtedy, gdy podmiot zamawiający prowadzi własną firmę lub działalność gospodarczą. Działalność nie musi być związana z branżą elektronicznych papierosów. 
Każde zamówienie jest realizowane po zweryfikowaniu danych.
Brak numeru NIP przy zamówieniu jest równoznaczny z anulowaniem zamówienia.

Zakupy detaliczne wszystkich produktów dostępnych na stronie można dokonać w punktach stacjonarnych So Fly - The Vape Shop - zobacz adresy punktów stacjonarnych.
Opinie o produkcie (0)
Inni kupili również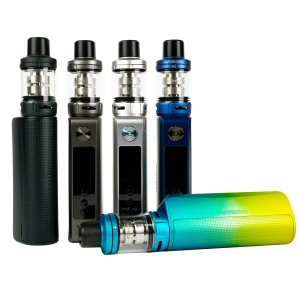 Vaporesso Gen 80S Kit
239,00 zł
Vaporesso Luxe 80S Kit
179,00 zł
Smok Rigel - Kit
209,00 zł
Vaporesso GTX GO 40 Kit
99,00 zł