Smok Novo 5 Pod Kit
Cena:
113,00 zł
139,00 zł
113.00
Najniższa cena z 30 dni przed tą promocją:
139,00 zł
Jeżeli produkt jest sprzedawany krócej niż 30 dni, wyświetlana jest najniższa cena od momentu, kiedy produkt pojawił się w sprzedaży.
towar niedostępny
* - Pole wymagane
Opis
Najnowszy członek rodziny słynnych podów Novo wita na pokładzie kultowej marki Smok. Smok Novo 5 to następca dobrze znanych i lubianych podów z kolekcji Novo. Oferowane w So Fly The Vape Shop urządzenie o ergonomicznym kształcie, niezwykłej wydajności i funkcji automatycznego zaciągania w nowej wersji z pewnością zachwyci każdego fana tej serii. W ulepszonym modelu bateria wynosi aż 900mAh i może wygenerować do 30W mocy wyjściowej. Smok Novo 5 został wyposażony w regulator przepływu powietrza w formie wygodnej regulacji w górnej części urządzenia, który daje możliwość pełnej kontroli ciężkości każdego zaciągnięcia. Firma Smok niezwykle zadbała o każdy detal. W najnowszym modelu wbudowany został czytelny wyświetlacz OLED o przekątnej 0.69'', który będzie idealnym rozwiązaniem dla waperów ceniących sobie wygodę. Ponadto w urządzeniu pojawią się dwie opcje aktywacji - za pomocą przycisku lub za pomocą Auto-Draw by dostosować działanie sprzętu idealnie pod własne preferencje. W zestawie dołączone zostały dwa kartridże nowej Serii Smok Novo 5 Meshed o pojemności 2ml z wbudowaną grzałką 0.7 Ω MTL. Kartridż wyposażony w górną, przyjemną funkcję napełniania zapełni najwyższy poziom komfortu podczas korzystania z urządzenia. Najnowszy oraz niesamowicie kompaktowy model Novo 5 Pod dostępny na SOFLY w wielu ciekawych wariantach kolorystycznych.

Specyfikacja:

Wymiary: 96x29x18.9mm
Waga: 71g
Bateria: 900mAh
Zakres mocy: 5-30W
Pojemność: 2ml
Ładowanie: Szybkie,Typu-C
Wyświetlacz: OLED 0.69''
Zakres rezystancji: 0.5-2.5Ω
System napełniania: górny
Typ wapowania: MTL
Regulacja Przepływu powietrza
Aktywacja: Automatyczna/Przycisk


W Zestawie:


1x Smok Novo 5
2x Kartridż Smok Novo 5 Meshed  0.7Ω
1x Kabel Usb Typu-C
1x Instrukcja Obsługi
Opinie o produkcie (0)
Inni kupili również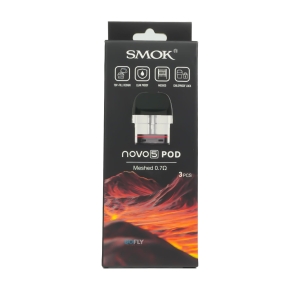 Smok Novo 5 Mesh Pod
Smok Nord 5 Pod Kit
149,00 zł
Cena regularna:
179,00 zł
Najniższa cena: 179,00 zł
Lost Vape Ursa Nano 2 Pod Kit
89,00 zł
Cena regularna:
109,00 zł
Najniższa cena: 95,00 zł
Lost Vape Ursa Nano Pod Kit